MBA INFORMATION MANAGEMENT - Results

<![if !vml]>

<![endif]>
ControlGlobal.com E-News - AUGUST 14, 2007 Brought to you by ControlGlobal.com and Putman Media

View on the web:
http://controlglobalnews.com/lrd1_AAegHQAACQAB
To ensure you continue to receive ControlGlobal.com E-News in your inbox, please add wboyes@controlglobalnews.com to your address book.

Surveys

Selection and decision-making criteria for Distributed Control Systems in the process industry Distributed Control systems (DCS) are the heart- and nerve system within the process industry. The choice of DCS for a concern is a matter of strategic importance. Help define what a good DCS is.

http://controlglobalnews.com/lrd13_AAegHQAACQAB<![if !vml]>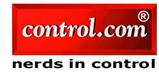 <![endif]>
Discussion area at control.com
http://www.control.com/thread/1026224078
Link to Automation.com discussion area.
<![if !vml]>

<![endif]>
http://my.automation.com/index.php?page_id=4&cat_id=8&thread_id=1&post_type=4
<![if !vml]>

<![endif]>
http://www.controlengeurope.com
Hazenberg calls for survey participants Read more>>>

MBA researcher, Willem Hazenberg, from Newport International University has
undertaken a research project titled, 'Selection and decision-making criteria for a Distributed Control System in the process industry'.
Hazenberg is well known in the process control world and was previously chairman of the Honeywell EMEA User group and a member of the Global UIS. Furthermore he has, in the past, worked with Emerson, Foxboro, Honeywell, Valmet and Siemens Systems.
It is intended that the research will expand the knowledge partly documented by P. Lukas (1986), ISA (1991) and TNO (1995) and will help users improve and speedup the selection process.
This research will define the core selection criteria and their priorities for the purchase of a Distributed Control system. It will also design a decision-making model to further improve decision-making for new systems.
Hazenberg is now calling for input from end users, system integrators and DCS vendors. The survey will shut on 1 October 2007 and the outcomes will be available, free-of-charge, for survey participants.
Take survey
Enter Main DCS Selection Site

DCS Research Project MBA Research Project "Selection and Decision-making Criteria for Distributed Control Systems in the Process Industry."

First publication about DCS selection research will be in May 2009 number of Processcontrol interview from Mr. Hans Harlé.
18-10-2009